Difference can make a big difference, especially when you take into account the daily cost of putting petrol in your family car. Venezuela is the cheapest country to buy petrol in at just 8p a litre, while residents of neighbouring nation Columbia pay more than 40 times as much for their fuel. After Venezuela, Egypt (9p a litre), Saudi Arabia (10p a litre), Qatar (12p a litre) and Bahrain (15p a litre) are the cheapest countries to but petrol in.
By contrast, Norway was found to be the most expensive country to fill up in – with petrol costing an astonishing 1.64p a litre in the Scandinavian state. Here is an interesting graph of some petrol prices – but, of course, the graph could be done quite differently to highlight the real contrast in prices. You might like to work out a better way to display this data?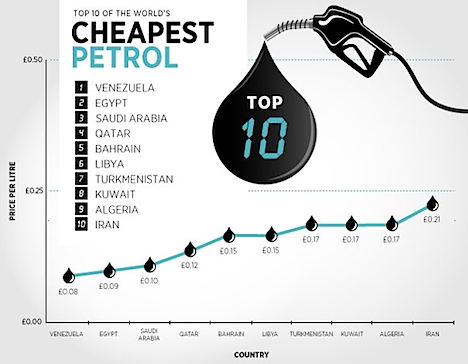 Is there really a world shortage of petrol. No! Check out this TED talk given by Richard Sears.