The Mathematics of Probability is a fascinating one, and every day we take our chances in a variety of different situations (actually, some of our students take big chances every day, simply by running around corners without looking!). Impossible means a probability of 0; while certainty is a probability of 1.0 – that is, every possible outcome is a "favourable"one. For example, I was teaching Year 10 students (aka sophomores) the other day and I said that, "The probability that a student chosen from random in my room is a Year 10 student is 1.0". My sample space would be all my students.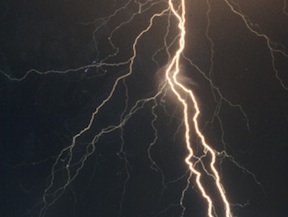 In the United States, an average of 80 people are killed by lightning each year. Considering being killed by lightning to be our 'favourable outcome', the sample space contains the entire population of the United States (about 250 million).
If we assume that all the people in our sample space are equally likely to be killed by lightning (so people who never go outside have the same chance of being killed by lightning as those who stand by flagpoles in large open fields during thunderstorms), the chance of being killed by lightning in the United States is equal to 80/250 million, or a probability of about .000032%.
Clearly, you are much more likely to die in a car accident than by being struck by lightning!
The Lottery
What if you want to know the probability of winning the lottery? Combination and permutation formulas are very useful for solving probability problems. Imagine a lottery where you pick six numbers from 1-49 and for a winning number, their order matters. Here you must use the formula for permutations to figure out the size of the sample space, which consists of the number of permutations of size k that can be taken from a set of n objects.
Since only one possible ordering of the six numbers can win the lottery, there is only one favourable outcome.
The sample space, however, is quite large because it is equal to 49! (Factorial 49) which is 49 x 48 x 47 x 46….. which is roughly 10 billion! This means that the probability of winning the lottery is about 1 in 10 billion. (source: Ask DrMath)