At the time of this post the search for debris (or anything) from Malaysian Flight MH370 is warming up, with new reports of objects floating in the southern Indian Ocean, far off the west coast of Australia. One difficulty with such searches is that, so long after the disappearance of the airliner, that objects in the water are most likely a long way from their point of origin.


Modelling base on real drift data has been compiled, by an Australian company, to gaphically show how two identical objects, when dropped at the same location in the ocean, can end up thousands of kilometers away from each other in a matter of a few weeks. Click on the image to see how debris moves across our great oceans: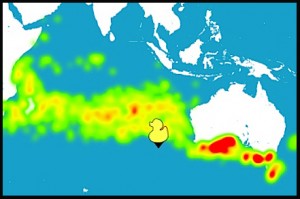 Update: British firm Inmarsat was behind an earlier analysis that indicated the plane had been flying in one of two big 'corridors', one in the northern hemisphere and one in the southern. However last week it went back to its data and tried a new mathematical analysis, which concluded on Sunday. This revealed that the plane had flown south. Read more here.