The Warkworth Radio Astronomical Observatory is located about 50 km north of Auckland, New Zealand. It is operated by the Institute for Radio Astronomy and Space Research, Auckland University of Technology. Here is a picture of it: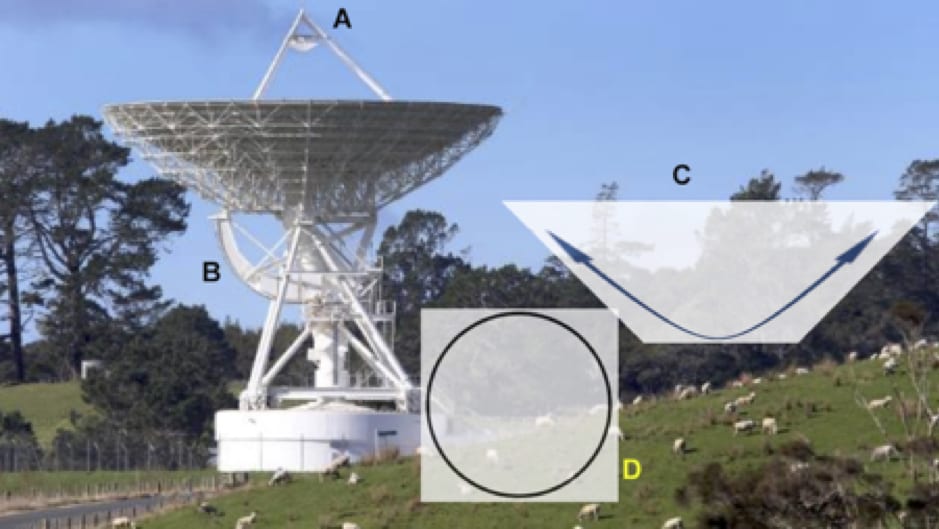 Task 1: Which shape – the parabola (C) or circle (D) best fits the shape of the telescope? Explain how you got your answer.
Task 2:  What name is given to the pointy bit at A? (You might have to research your answer in Task 1 to find out).
Task 3: What do you think the purpose is of the curved base of the telescope at B? (shucks – more research might be needed).
Task 4:  Scientists at the Institute for Radio Astronomy and Space Research have just picked up an unusual signal, obviously from intelligent life. How do they know? Because the signals have a numerical pattern, along with different colours. Jim Logan, a respected New Zealand mathematician, says that he is 101% certain that this signal is – and I quote –  "A sure sign of Alien life!" This is the pattern that was received at the Warkworth Observatory and carefully examined by Mr Logan:

Here is a brief transcript of Mr Logan's mathematical analysis of the number pattern:
"(Clears throat) I am sure that what we have here is a remarkable discovery – a new alien language (I used to think that Maths was an alien language). Someone is obviously wanting to communicate with us here in Tai Tokerau (north of NZ), or even in wider Aotearoa (NZ). Why did they choose us and why mathematicians? Well, it is obvious that they trust New Zealanders – an honest race of law-abiding citizens. And they love numbers – see for yourself in their message! It seems that they enjoy color too and, from my brief observation – they love having fun with numbers, just like me!"
These aliens have a strange way of showing numbers with different colored rings. I have had a colorful life too. However, I am puzzled – which is really unusual for me as I normally come up with all the puzzles for other mathematicians to solve! (scratches his head). So, I am sharing what I have found and need your help to crack the code."
What is the meaning of the colored rings? Can you break the pattern code(s)?
Task 5: Jim Logan wants to impress his friends and send the aliens a message to show them that we understand the number pattern they have sent us. Draw the shape and colors we need for the number 77.
Task 6: (for deep space thinkers): How could you code your message to send out the number 77 as an electrical signal?
(more information – watch Dan Finkel's video at Tedx)
Here is a doc of this exercise – so you can customize it for your class or teacher:
The Warkworth Radio Astronomical Observatory worksheet-rlutj5